For the correct display of our website, we use only technically necessary cookies. For more information, please see our Privacy Policy.
Girl's consultation hour
On the very special development path from being a girl to growing up to a woman, we offer teenagers and even young girls and kids our support in form of a "girl's consultation hour". With sensitivity and sympathy, we answer your questions about pregnancy prevention, the first love, body development and help with your problems like menstruation and many more. Additionally, we provide vaccinations and want to help maintaining your health. If it is your first time at the gynecologist, you should only make an appointment to get to know the team and the office. It you do not have any ailments, you can move the gynecologic examination to a later date.
As doctors, we are subject to the pledge of secrecy and treat everything you tell us absolutely confidential, even if you are not at full age. You do not have to be scared of an examination - at the first appointment it is mostly not necessary. Furthermore, the examination will only be performed, if every step is discussed beforehand and only if you agree to it.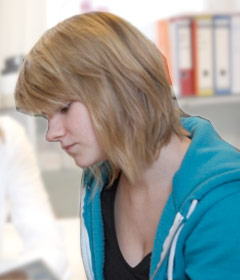 Gynecologists are the choice of contact person for questions about body development, menstruatuion, the topics love and sexuality, pregnancy and safer sex. You do not have to be shy with your questions, there are no bad ones.